Critical communications
Besides being crucial for homeland security and protecting infrastructure, critical communications play a key role in public and rail transportation, in smart mobility services and for those companies at the forefront of industry 4.0 challenges.
The sector is going through an important technological evolution, as the dawn of new broadband systems (LTE/5G) opens fresh alternatives to those services currently based on voice and text over narrowband networks.
With its new solutions, Leonardo is leading this transition to enable first responders and law enforcement professionals but also transportation, critical infrastructure organisations and industries to benefit from the advantages of these new technologies.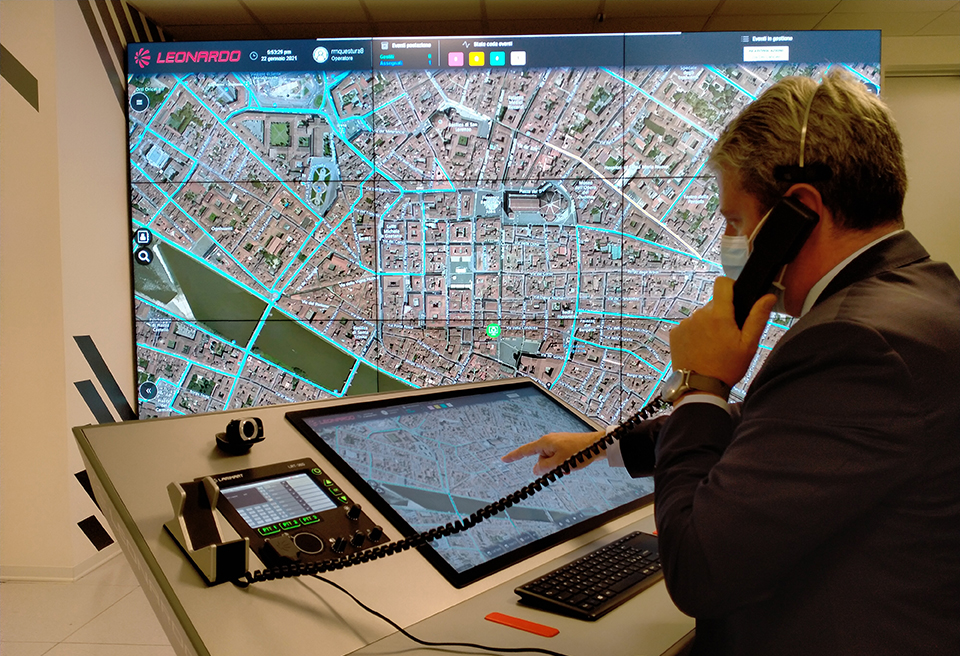 With this in mind, in Vienna Leonardo is presenting a series of systems and solutions across three main themes:
Mission Critical Hybrid Ecosystem: an ecosystem based on the Multi-Carrier Hybrid Network, named RIM, which enables the coexistence and the seamless interoperability between narrowband and broadband communications, also including the Mission Critical Control Room and the X2030 platform for global monitoring.
Broadband communications solutions: the Mission Critical MCXPTT, based on the model expected by the 3GPP MCX standard, fully supporting voice, video and data communications. In addition, this area also hosts the MCX system, developed by Leonardo for Future Railway Mobile Communication System (FRMCS) applications in compliance with the 3GPP guidelines for LTE and 5G mission critical services for railway transportation: Mission Critical Push To Talk (MCPTT), Mission Critical Data (MCData) and Mission Critical Video (MCVideo).
Cyber Secure communications: cyber threat intelligence and endpoint protection solutions to safeguard communications infrastructure from cyber threats. In addition, this area also includes the Cyber Range and Cyber Trainer platforms, used within Leonardo's Cyber & Security Academy, which demonstrate the relevance of specialised and continuous education for operators involved in network security.
Conferences
Leonardo, Platinum sponsor of CCW2022, comes to the exhibition with a diverse range of speakers from the Cyber & Security Solutions Division who will address the conference on June 22nd.
Valerio Di Claudio, CTO – R&D Grants & Collaborations, will participate in the panel on the future of railway communications. On the same topic, Silvia Fanigliulo, International Sales Manager, will illustrate Leonardo's solutions, based on the TETRA standard, which guarantee encryption and cyber security on the Singapore underground. Angelo Benvenuto, Head of Solutions & Product Marketing, will speak about security in critical communications for Industry 4.0.
More information: cyberandsecurity@leonardocompany.com

Follow our social media channels Twitter, LinkedIn and Instagram and stay tuned for our latest initiatives